Top Picks: The family cooking magazine Chop Chop, Dean Jones' new indie album for kids, and more
Singer/songwriter Roger Day performs a concert in the wetlands, 'My Lucky Elephant' follows a young Thai boy and his pachyderm best friend, and more top picks.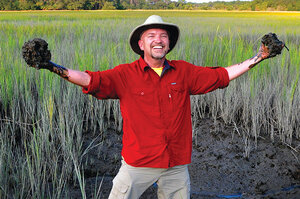 Glorious mud
Summer is a natural time for children to refresh their love of nature. Roger Day has created a delightful journey through the mucky coastal lands of the South in his Marsh Mud Madness video. The singer/songwriter spent five days in 2009 exploring Sapelo Island, a barrier island south of Savannah, Ga. He weaves footage of himself – wearing boots and meandering through the gooey wetlands – with a concert performance in which he and his team of skilled and diverse musicians sing their way around the many scary critters of the swamp world. The science is sneakily good, the songs are fun, and the rhythms are downright infectious.
Elephant friendship
My Lucky Elephant is a full-length feature about a young Thai boy and his large pachyderm pal. The tale is set against a backdrop of concerns about the natural world that surround the pair as they wander through the countryside looking for shelter and food. Visit http://myluckyelephantmovie.com/.
Kids in the kitchen
Looking for fun projects to keep the kids occupied this summer? Head into the kitchen! Chop Chop, a 2013 James Beard award winner, is "the fun cooking magazine for families." Available in both English and Spanish, the quarterly magazine offers nutritious, ethnically diverse, and inexpensive recipes, as well as interesting and little-known food facts, Q-and-As, and games. The magazine aims to get kids cooking real food at home with their families. Check it out online at http://www.chopchopmag.org/.
---