Mick Jagger, Joss Stone part of new 'Supergroup'
(Read article summary)
A source says the group has completed recording an album and video and is shopping the material around to various labels.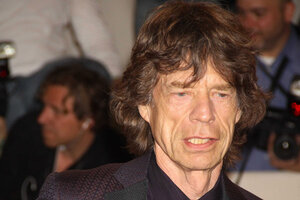 Newscom
It looks as if hanging around waiting for the Rolling Stones to decide on their next move is not enough to keep Mick Jagger satisfied. I know a lot of us could think of a-million-and-one things to do with all that money to keep us busy through numerous lifetimes, so Jagger's decision to be part of a new group could be looked upon as a demonstration of the man's true passion for music. On the other hand, maybe he feels like he has something to prove to an old friend.
Word is that the new supergroup is currently calling itself "Super Heavy." A bit pretentious perhaps, but the name could have been chosen for reasons other than those that spring first to my mind, or is perhaps just a "beta" name (what has this Google-driven world done to my mind?) until they come up with something more to their liking. Even so, it may be a better choice than Chickenfoot!
Super Heavy is reported to include the likes of Dave Stewart of Eurythmics fame, Damian Marley,youngest son of the late Bob Marley, Joss Stone, the super-successful British singer-songwriter/actress and of course Mick Jagger. Indian musician and producer A.R. Rahman is also involved, but since he's known for his abilities as a producer and a player ("The Mozart of Madras"), it's not clear exactly what his role is within the group, although if I had to guess, I'd say he's putting his "Mozart" skills to good use.
---