Disney announces release date for 'Oz: The Great and Powerful'
(Read article summary)
Disney announced a March 8, 2013 release date for Sam Raimi's 'Oz: The Great and Powerful.'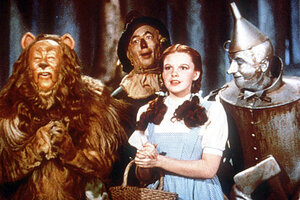 Scripps Howard Photo Service/Newscom/ File
We've been feeding you regular updates on the Disney prequel to Frank L. Baum's beloved children's book 'The Wizard of Oz', which was first adaped for the screen in 1939. Oz: The Great and Powerful will be directed by Sam Raimi, who is known best for the 'Evil Dead' trilogy, the 'Spiderman' films and 'Drag Me To Hell'. The film is currently in pre-production, set to start filming in July this year, and just today Disney have announced March 8th 2013 as the general release date for the film. If that sticks, Oz: the Great and Powerful will be competing with Neill'District 9' Blomkamp's next sci-fi flick 'Elysium'.
Before I give a plot synopsis, allow me to warn you that the entire premise of Oz: The Great and Powerful is one massive spoiler for the end of 'The Wizard of Oz'. If you haven't read the book or seen the film then I highly recommend that you stop reading this article now and go and pick up either the screen or the paper version of the story, whichever's closest, because it's a great ending.
Are they gone? Good.
---