'The Muppets' trailer parodies 'The Hangover 2'
(Read article summary)
The second 'Muppets' trailer released parodies the original teaser for 'The Hangover 2.'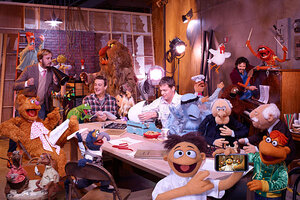 Walt Disney Pictures/Newscom
Disney recently started off its marketing campaign for this fall's The Muppets on the right foot, releasing a clever teaser trailer that starts off selling the film as a run-of-the-mill romantic comedy before revealing that Kermit the Frog, Miss Piggy, and the rest of Jim Hemson's beloved felt creations would be in the movie as well.
Now a second teaser trailer has been released for The Fuzzy Pack (a.k.a. The Muppets) that not only parodies the original teaser for The Hangover: Part II – but chances are good you'll actually laugh harder here than at most of the jokes in the Hangover sequel.
The Muppets features Jason Segel (who also wrote the screenplay) and Amy Adams as the main human characters, Gary and Mary – a couple who help Kermit and Co. reunite in order to put on a grand show that'll save their old production studio from being destroyed. Cue the song & dance numbers, celebrity cameos, and general irreverent humor that everyone expects (and loves) in a Muppets movie.
Muppets director James Bobin (Flight of the Conchords) and Segel recruited a whole lot of big names stars to make brief appearances in the film – including, coincidentally enough, The Hangover's Zach Galifianakis and Ed Helms. However, this new Muppets teaser trailer offers an early look at two other guest appearances – and we DARE you to not laugh out loud at the second one.
---