Orlando Bloom will return in 'The Hobbit'
(Read article summary)
Peter Jackson has confirmed that 'Lord of the Rings' star Orlando Bloom will be returning as elf warrior Legolas in 'The Hobbit'.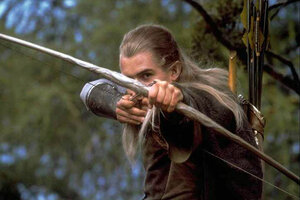 Newscom
Peter Jackson is confirming that Lord of the Rings star Orlando Bloom will indeed be reprising his role as Legolas in Jackson's upcoming two-part adaptation of The Hobbit.
In unrelated news, a mysterious soundwave that experts are calling "the groan" was recorded just moments ago by Nasa satellites as it permeated the globe.
We kid of course: There are just as many fans of Bloom's portrayal of Legolas as there are detractors – and there will certainly be a lot of fans all giddy about the thought of yet another actor from Lord of the Rings coming back for The Hobbit. Jackson broke the news via his Facebook page:
Ten years ago, Orlando Bloom created an iconic character with his portrayal of Legolas. I'm excited to announce today that we'll be revisiting Middle Earth with him once more. I'm thrilled to be working with Orlando again. Funny thing is, I look older—and he doesn't! I guess that's why he makes such a wonderful elf.
On a side note, he's totally right: Orlando Bloom does seem to age at an elf's pace, no?
---