'The Hobbit' release dates and subtitles revealed
(Read article summary)
The subtitles and release dates for Peter Jackson's two 'The Hobbit' movies were officially announced.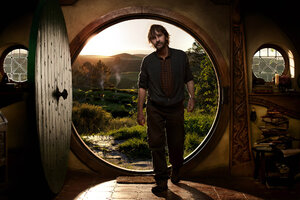 Agencia el Universal/El Universal de Mexico/Newscom
It's been known for some time now that the first half of Peter Jackson's two-part film adaptation of 'The Hobbit' would arrive in December 2012, with part two tentatively scheduled to arrive a year later. Likewise, rumors over New Line Cinema's registration of two potential subtitles for the movies popped up about three months ago.
Now New Line Cinema, Warner Bros., and MGM – all of which are involved in funding Jackson's estimated $500 million new venture to Middle-Earth – have gone ahead and announced official release dates AND subtitles for the Hobbit movies.
As we previously speculated, the first Hobbitmovie will be titled 'The Hobbit: An Unexpected Journey' – followed by the second film, The Hobbit: There and Back Again'. Tolkien fans should be even less surprised by the subtitle for part two of Jackson's 'Hobbit', seeing as that it's also the name of the book that Bilbo Baggins writes about his wondrous adventures.
'An Unexpected Journey' is now set to hit theaters on Dec. 14, 2012. 'There and Back Again' will follow suit just under a year later on Dec. 13, 2013.
---
Follow Stories Like This
Get the Monitor stories you care about delivered to your inbox.