Bradley Cooper will star alongside Ryan Gosling in 'The Place Beyond the Pines'
(Read article summary)
'The Hangover' and 'Limitless' star Bradley Cooper will play a police officer in Derek Cianfrance's drama 'The Place Beyond the Pines.'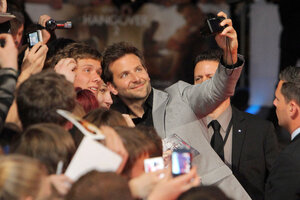 Eventpress Hermann/Picture Alliance/Newscom
Bradley Cooper is set to star in Derek Cianfrance's drama 'The Place Beyond the Pines', it has been confirmed. The film, which Cianfrance has co-written with Ben Coccio and will direct, centres upon a motorcycle stunt rider, who will be played by Ryan Gosling, and how his life changes when he learns that he has a baby, and how he changes his ways of crime and vice in an attempt to become a father.
It is understood that 'The Hangover' and 'Limitless' star Cooper will play a police officer, who becomes involved with Gosling's chancer whilst he tries to break free of his dishonest nature.
Cooper's most recently released film, 'The Hangover Part Two' is currently storming box offices, and has already broken Part 1's record of fastest selling R-rated film over a five-day release on American screens (despite being widely panned by critics). The actor seems set to build on the momentum of this film, and is reportedly soon to confirm his role as Lucifer in Alex Proyas' adaptation of John Milton's poem 'Paradise Lost'. Rumours suggest Cooper will also star in Juan Carlos Fresnadillo's reinvention of 'The Crow'.
---