Bobby Fischer Against the World: movie review
(Read article summary)
Director Liz Garbus's achievement is in making Bobby Fischer's story palpable to an audience that may have been too young to witness Fischer capture American pop culture like some Michael Jackson with an endgame, or to those who've forgotten how his skills took hold of the nation's thinking, even bumping Watergate updates from the evening news.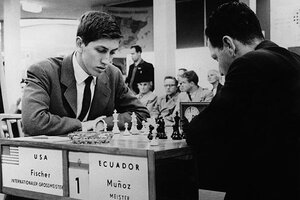 KPA/Zuma Press/Newscom/ File
Chess. You hear the word over and over in Liz Garbus' thrilling documentary, Bobby Fischer Against the World. It's practically everywhere, in reference to everything, strewn throughout news footage, and repeated in talking-head interviews. It's tough to recall another film with such a ubiquitous word, but that repetition makes sense here. That word, the game, the philosophy, practically ate Bobby Fischer's brain whole. As Garbus deftly tells us, Fischer was not just obsessed with chess; he was possessed by it.
That slavish dedication to mastering, and even over-mastering, the game is at the core of Fischer's actions, for perhaps his entire life. In the time leading up to Fischer's infamous, politically charged match against Soviet Boris Spassky — the obvious centerpiece of the film — we see that he put all his quirks and neuroses on display for the world. He was boorish and selfish. Remarkably conceited and quizzically reclusive. He oozed weirdness, disrespect and an unmistakable level of genius.
---