'Percy Jackson and the Olympians' sequel has a new director
(Read article summary)
The sequel to 'Percy Jackson and the Olympians' will be directed by 'Diary of a Wimpy Kid' director Thor Freudenthal. Christopher Columbus, who directed the first 'Percy Jackson and the Olympians,' will be the film's producer.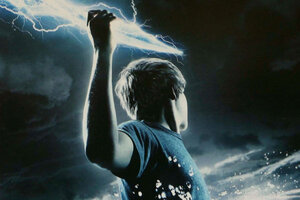 ta1/Zuma Press/Newscom
A mild hit when it was released last year, there's been some chatter every once in a while about a sequel to Percy Jackson and the Olympians, yet nothing concrete – until today. The L.A. Times is reporting that the film's director Christopher Columbus (Harry Potter and the Scorcerer's Stone) will be the sequel's producer, as Fox has hired Diary of a Wimpy Kid's director, Thor Freudenthal.
"According to a source familiar with the production who asked not to be identified because of the sensitive nature of discussions, studio Fox 2000 has exercised the option on star Logan Lerman, essentially meaning that the young actor is locked down to reprise his role as Percy Jackson in a new picture. The company has also hired a director in Thor Freudenthal, best known for helming the similarly boy-oriented Diary of a Wimpy Kid; he'll pick up where Lightning Thief director Chris Columbus left off. (Columbus will only produce this new movie.)"
---
Follow Stories Like This
Get the Monitor stories you care about delivered to your inbox.