Larry Crowne: Blogger movie review
(Read article summary)
'Larry Crowne' finds success in star power, namely Julia Roberts and Tom Hanks. Without them, 'Larry Crowne' might fall along the wayside with various other romantic comedies of the last decade.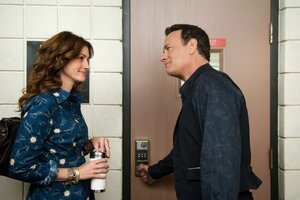 Bruce Talamon/EFE/Newscom
The recessionary spirit has started to manifest itself in American cinema at full force, and thanks to "Larry Crowne," it has entered mainstream romantic comedy. While it's less like "Up in the Air" and more like a double-length sitcom episode, the movie works as a reminder that dignity, integrity, and the will to work are three powerful weapons against the tough times facing our country. This commentary mostly takes a backseat to the been there, done that genre tropes – but just the fact that it has subtext makes it deeper than just about every romantic comedy in the past decade.
Say what you will about the declining power of movie stars, but I don't think this movie would have worked without its marquee names, Tom Hanks and Julia Roberts. We've all seen the good-natured person melt the cold exterior of someone else, although "Larry Crowne" does invert it by making the man nice and the woman chilly. The characters are one-dimensional; Hanks' Larry being an embodiment of good while Roberts' Mercedes Tainot representing a heart hardened by a bad marriage and the frustrating public education system.
Yet it's watchable, even fun, because our heads process it as Erin Brockovich falling in love with Forrest Gump. The romance isn't good enough to be cared about if we were watching two no-name indie actors, and we accept it because we have a history with these two actors and we trust them. We aren't watching Larry Crowne; we are watching Josh Baskin, Andrew Beckett, Joe Fox, and Chuck Noland. Similarly, we aren't watching Mercedes Tainot; we are watching Vivian Ward, Julianne Potter, Maggie Carpenter, and Anna Scott. Where the script lacks, the decades we have spent having these two actors entertain us compensates. (So if you aren't a fan of either of the actors, maybe it's best to steer clear.)
---