Marvel Studios follows Pixar's lead, the future of short films
(Read article summary)
Short films will be included as special features in the DVD and Blu-Ray releases of Marvel Studios' 'Thor' and 'Captain America.' Marvel may make more short films to boost their feature film business.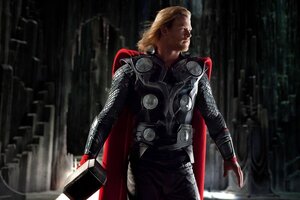 Marvel Studios/Newscom
With their Avenger arc wrapping up next summer, Marvel's been contemplating other heroes for the big screen (here), but let's face it after DC's Green Lantern coming up short: movies based on lesser characters in their canon like Cloak and Dagger, Luke Cage, Moon Knight and Dr. Strange are possibly too risky.
But what about short films in front of their movies or on the Blu-ray/DVD releases like Pixar does? That's what Film School Rejects believe after Thor's upcoming Blu/DVD specs got released, and two mysterious features were announced – Marvel Studios – The Avengers (Bonus Featurette) and Marvel One-Shot: The Consultant.
---