Pitchfork Music Festival: Fans as important as musicians
(Read article summary)
Mark Guarino reviews this year's Pitchfork Music Festival, as well as Pitchfork Music's unique business model.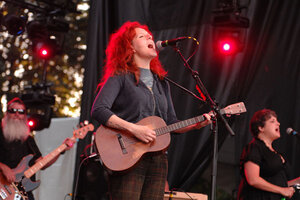 Sergei Bachlakov/Xinhua/Newscom
At the Pitchfork Music Festival, which closed its third and final day Sunday in Union Park in Chicago's far West Loop neighborhood, concertgoers were not necessarily sampling new favorites and familiar standbys, they were part of the attraction too.
That's because Pitchfork is unlike most destination festivals in the US in that it was created to directly reflect its flagship, a successful online music site where music criticism is of equal value to the lifestyle branding to which the organization's ongoing commercial ambitions are staked.
For young bands that can no longer depend on earning revenue through music sales, which have been on a steady decline for a decade, a Pitchfork nod is considered a big win. Whereas in the past bands might have worked hard to carve out a distinctive sound or unique perspective in their songs, these days the art is to simply get Pitchfork to notice you, resulting in one of the site's signature exhaustive blog reviews that are routinely lampooned, most notably by comedian David Cross.
Through Pitchfork's draconian 1-10 numbering system, bands are evaluated like microdots in a chemical lab; ranking assesses a band's worthiness to fit into the Pitchfork mold. Which ultimately means participation in many of the organization's emerging ventures, which, besides the festival, includes an online television channel, a second festival in Paris, and video game licensing.
The difficulty is that Pitchfork doesn't really seem interested in engaging readers into a dialogue about music more than it wants to curate trends that, in turn, help the company become more valuable.
Which is good for its multi-platform business model but less so for musical integrity. Despite a handful of headliners that give the festival its heft, the majority of bands at Pitchfork become, in less than a year, the equivalent of old milk. Each year many arrive and exit unceremoniously; the constant is that, for one moment, they were Pitchfork-ready.
---