Katy Perry vs. LMFAO for the song of summer
(Read article summary)
"Last Friday Night (TGIF)" faced off against "Party Rock Anthem" for the title of summer anthem in 2011.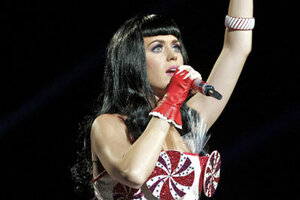 AFP/Getty Images/Newscom
Shut the door. Have a seat. It's September. With Labor Day having all but arrived and the calendar turned away from August, summertime is officially over. (Pause here for head shaking and teeth gnashing.) To celebrate this totally crappy turn of events, yours truly will be using the next few blog posts to fondly remember the summer of 2011.
First up, the music!
The biggest problem with pop music this summer was that there was no clear cut Song of the Summer. While 2010 had "California Gurls" and 2009 had "I Gotta Feeling," 2011 had... well, not much. Lady Gaga's "Edge of Glory" was great, but it felt like the fourth single from an album that gets released in January. (Her new single, "You and I," came out too late for summer consideration, but will likely kill during the next few months.) Ke$ha's "Blow" never reached ubiquity, despite being comically dirty and catchy; same with Rihanna's "S&M." The wonderful Adele had "Rolling in the Deep" on the top of the charts all summer, but — even accepting its awesomeness — would anyone want to roll down the street, windows open, blasting "Rolling in the Deep" for all the world to hear? Summer is supposed to be fun, not sorta depressing and vengeful. Late comers like "Stereo Hearts" and "Love on Top" (Beyonce 4eva!) are fantastic songs, but are reaching their peak now, when summer is in the books.

So! Not a stacked field. Because of that, two ditties ended up taking the proverbial summer pie (key lime, hopefully): LMAFO's absurd and stupid "Party Rock Anthem" and Katy Perry's absurd and stupid "Last Friday Night (TGIF)."
---