Staging the wondrous but elusive 'Candide'
(Read article summary)
Full of glorious music, 'Candide' represents some of Leonard Bernstein's best work as a composer for theater. But putting the story on stage has bedeviled writers and directors. A new version may be the best effort yet.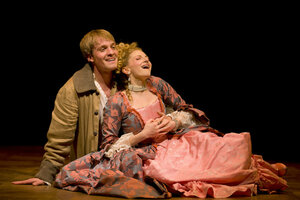 Courtesy of Huntington Theatre Company
Will there ever be a definitive "Candide"? Does there need to be one?
The blessing (or curse) in staging Voltaire's acidic, seriocomic 18th-century novel "Candide, or The Optimist" as musical theater began in 1956 when composer Leonard Bernstein wrote a magnificent score as part of bringing the story of "Candide" to Broadway.
The show itself was a flop. But the music, with its sassy and memorable pastiche of styles, lived on in recordings. And the jaunty overture became a staple in the repertoire of symphony orchestras.
"Candide" "is probably Bernstein's grandest, wittiest, most sophisticated theater score, showing the full range of his talents ... all of it crafted with a virtuosity far beyond the capacities of most Broadway composers," writes music critic Peter G. Davis. Bernstein himself said, "There's more of me in that piece than anything else I have ever done."
The musical styles range from tango, mazurka, waltz, gavotte, and schottische (a German country dance) to parodies of classical composers, notes Broadway historian Stanley Green. The song "Glitter and Be Gay," which demands a tour de force from a comic actress/soprano, pays off as the showstopper. The hymnlike finale, "Make Our Garden Grow," puts a soaring, affirmative exclamation point on a show that's otherwise laced with cynical humor.
---