'The Girl With the Dragon Tattoo' trailer looks excellent
(Read article summary)
A four minute-long trailer for David Fincher's 'The Girl With the Dragon Tattoo' has premiered online, teasing the film's sinister mystery plot and impeccable visual style.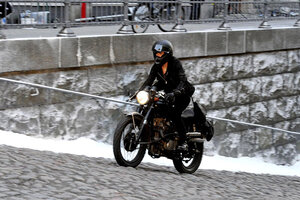 Newscom/File
Sony generated a good deal of positive buzz for The Girl With the Dragon Tattoo last week, during early screenings of the Straw Dogs remake - where it premiered some eight minutes of footage from director David Fincher 's take on the late Stieg Larsson's international best-selling novel.
Now a nearly four minute-long trailer for the film has been released online, offering everyone a better look at Fincher's latest Noir thriller - including, Rooney Mara's turn as punk Goth hacker Lisbeth Salander, the film's stylishly gloomy mise en scène (re: visual design), and newly-minted Oscar-winners Trent Reznor and Atticus Ross' foreboding score.
It bears mentioning again that while there will definitely be similarities between Fincher's version of The Girl With the Dragon Tattoo and Swedish director Niels Arden Oplev's acclaimed adaptation, the former is not actually a remake of the latter. In fact, several key members of the Fincher production - including screenwriter Steve Zaillian and star Daniel Craig - have made it known that they refused to even watch Oplev's film - so that their interpretation of Larsson's story and characters would be truly their own.
---