'Whitney' premiere a half hour without laughs
(Read article summary)
'Whitney' may very well be the most heavily promoted show in the new fall season, but does it deserve a spot in NBC's coveted Thursday night comedy block?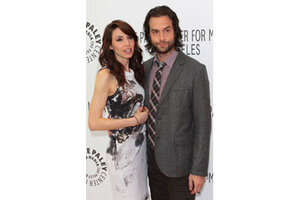 TLeopold/ZUMA Press/Newscom
Proving that months of promotions don't always result in quality programming, NBC's forced frontrunner comedy for the new fall season, Whitney, is a terribly conceived series, which is riddled with horribly inept dialogue, poorly realized characters, and an awkward presentation of the slowly dying three-camera sitcom format.
Attempting to be the sitcom of a new generation, Whitney assumes the familiar premise of dealing with the differences between men and women in a long-term relationship – but with a twist, or edge… or whatever.
With a formulaic plot that, in and of itself, leaves much to be desired, what's left for those looking for a new comedy series to add to their television viewing schedule is a litany of poorly acted scenes wrapped in the most inappropriate television format for the material presented.
While it can be said that many of the specific jokes in Whitney were technically funny, the use of a three camera sitcom, combined with Whitney Cummings familiar delivery from her stand-up career (that somehow made its way to everyone else in the cast), makes for a completely uncomfortable viewing experience.
Not because the jokes were "over-the-top" or "edgy" but because each punch-line was delivered so forcefully that it felt as if the actors weren't completely behind the words that they were saying, or that it was actually funny (even if it was). This is something that was obviously felt by the ridiculously coerced live studio audience that was in attendance during the taping.
Despite the fact that Whitney Cummings so proudly announces that the show is filmed in front of a studio audience during the title card, one has to ask themselves whether the laughter heard in the pilot came from said studio audience, or from television's familiar laugh track.
---