'Prohibition' – so much more than gangsters and flappers
(Read article summary)
This Sunday (8 to 10 p.m. EDT) Ken Burns turns his prodigious research efforts and illuminating camerawork loose on America's failed attempt to sober up.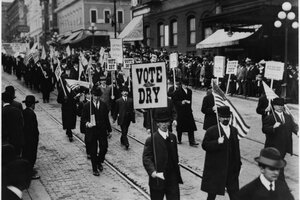 Courtesy of John Binder Collection
Nearly a century ago Americans decided to make drinking alcohol illegal – and then promptly and widely ignored their own new law.
Prohibition turned liquor distribution into a lucrative business for criminal gangs. Yet it was spawned, at least in part, by an altruistic American notion that society could be improved to form "a more perfect union."
This Sunday (8 to 10 p.m. EDT) America's preeminent documentary historian, Ken Burns, begins a 5-1/2-hour series that turns his prodigious research efforts and illuminating camerawork on "Prohibition."
That era, from the passage of the 18th Amendment in 1919 to its repeal 13 years later, is a subject that means so much more to America than just gangsters, flappers, and jazz, he says.
"We've got all of that. But it's so much more complicated," Mr. Burns says in a phone interview. "It's kind of an inside look at the original culture war, with all of these folks trying to assert control over other folks."
In part, it's the story of single-issue political campaign that resulted in unintended consequences, he says. It all may sound strangely familiar.
"It's got every single one of today's [issues]," he says, "demonization of recent immigrants, smear campaigns during presidential elections – everything that we think is so new to us is, in fact, a recapitulation of the original culture war."
"Prohibition" takes viewers from early 19th century efforts at "temperance" to 1920, when prohibition was enacted as a reaction to massive changes in American society, to 1933, when it is repudiated and repealed. Just how America changes over this period is reflected in the titles of the three installments: "A Nation of Drunkards," "A Nation of Scofflaws," "A Nation of Hypocrites."
---
Follow Stories Like This
Get the Monitor stories you care about delivered to your inbox.