Duran Duran fans spend hard
(Read article summary)
As the British rock band tours North America, long-time Duran Duran followers – mostly women – are crisscrossing the country and dolling up to watch their greying idols up close.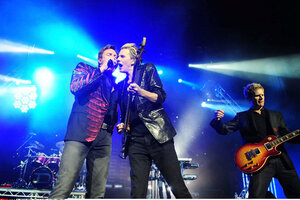 LOUIS JOHNNY/SIPA/Newscom
Duran Duran, the 1980s British pop band, often say they are "the band designed to make you party." Die-hard Duranies, as the band's fans are known, will go to extreme lengths to party like a rock star.
While Duran Duran is currently touring North America, Duranies are spending thousands of dollars on concert tickets, travel, haircuts, cameras, and clothes to see their '80s teen idols. Give it to Duranies: They are fueling at least a part of a dismal economy.
Duran Duran captured the imagination of Generation X women with dashing good looks, stylish designer suits, and songs about exotic places and romance not every day life. Women of a certain age not only wanted to meet their favorite member. No, they wanted to run away to Paris or the beach with him. Now, in their 40s, Duranies still have the same dream even if they have a few wrinkles. So do the band.
Maya Grigoraia traveled to San Francisco from Chicago to see the band perform in Saratoga last month. She connected with other Duranies from around the country who she had met through social media channels over the last several months.
Ms. Grigoraia plans to see the band three times on its "All You Need Is Now Tour," including in Chicago and Atlantic City.
---