Los Angeles opera company is filling a need for experimentation
(Read article summary)
The new production by Los Angeles company The Industry, 'Crescent City,' is a promising glimpse into what musical innovation can accomplish.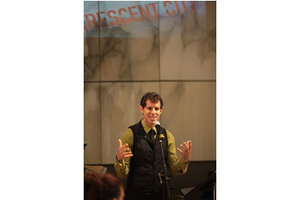 Courtesy of The Industry
In spite of the seemingly hopeless terrain in which classical musicians attempt to carve a life, there is a faint but steady glimmer of hope trying to gain momentum in southern California.
It takes the form of an opera company, though an unorthodox one at that, called The Industry. It launched last March, and, about a week ago, had its Visual Artist Launch at Los Angeles' iconic Barnsdall Art Park.
The company's first production, composer Anne LeBaron's "Crescent City," and the company itself seem inextricably linked: the essence of Ms. LeBaron's term ­"hyperopera" is an instance of the nature of The Industry's infrastructure and vice versa, says director Yuval Sharon, who worked as assistant director on L.A. Opera's mammoth "Ring Cycle" last season.
"At the heart of The Industry is a belief in opera as the first and ultimate interdisciplinary art form," Mr. Sharon said. "Each of our productions will aim to investigate the process of creating productions with a maximum degree of openness to new artistic disciplines."
Hyperopera is a postmodern resuscitation of Wagner's grandiloquent Teutonic notion that he called Gesamtkunstwerk. What Wagner meant by Gesamtkunstwerk, and what he wanted to achieve in producing his epic mega-operas (think heavy vibrato, German ladies, and Viking gear), was a synthesis of all art forms -- that is, the theatrical, the visual, and the musical. He believed the sum of these parts would exceed the potential of any solo effort. Hyperopera works largely under the same pretenses but, as you can imagine, the gamut of available arts to synthesize and ways to synthesize them is exponentially bigger and more complex than in Wagner's day.
---