'Grimm' will be an engrossing procedural with fairy tales, say producers
(Read article summary)
'Grimm' actors and producers say the show is firmly planted in the real world, but fantasy elements will add interesting twists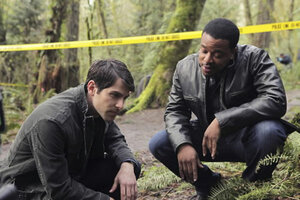 REUTERS/Scott Green/NBC Universal
In the series premiere of GRIMM, NBC's new horror infused fairytale series introduces viewers to a world that looks a lot like ours, but with one distinct difference: Detective Nick Burkhardt has begun to see people as they really are. Have you ever had the sensation that we are not alone? Well, in this case, you may be right. There are creatures hiding in plain sight masquerading as human. But for Nick, this newfound ability to see through the illusions creates a world of problems – he must sort out whether these creatures are friend or foe.

While at Comic-Con last July, the cast and producers of GRIMM talked with the press about what they know about the supernatural series so far and what viewers can expect.
David Giuntoli and Bitsie Tulloch
What have you enjoyed the most about GRIMM so far?
DAVID: What is really cool about this show is there are extraordinary things in it, but my character Nick sees himself as a regular guy and I find out extraordinary things are going to be happening. It is the first time I've worked in something where people's faces change, but the joy of it is I play it for the reality of what would it be like if it was actually happening to me.
---