Kal Penn and John Cho's 'A Very Harold & Kumar 3D Christmas' will satisfy fans, but struggles with tone
(Read article summary)
Kal Penn and John Cho: 'A Very Harold & Kumar 3D Christmas' juggles too much and is a mixed bag of comedy with unfunny drama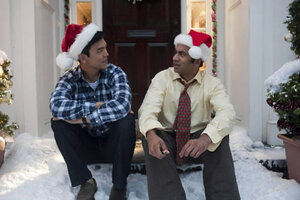 Darren Michaels/HONS/Warner Bros. Pictures/AP
The original Harold and Kumar (Go to White Castle) was a crazy one-shot comedy that seemed to throw everything but the kitchen sink at audiences in an effort to elicit a laugh. There were strippers, poop games, a raccoon, and even a misogynistic version of Doogie Howser himself, Neil Patrick Harris, before his return to the spotlight.
The film's followup, Harold & Kumar Escape from Guantanamo Bay, relied heavily on retooled versions of prior gags, but went on to gross twice as much as its predecessor, which easily paved the way for the third installment, A Very Harold & Kumar 3D Christmas. Is 3D Christmas a lackluster franchise cash-grab? Or like this year's Final Destination 5, does the film make creative use of its 3D gimmick and offer a tongue-in-cheek comedy experience.
Unfortunately, for the majority of the film, the 3D gags are nonexistent – although the Christmas story backdrop definitely provides plenty of entertaining counter-programming for the upcoming holiday season. There are a number of amusing variations on iconic holiday movies staples – such as the frozen tongue scene in A Christmas Story - but, in spite of all the winter movie spoofing, it's unlikely that A Very Harold & Kumar 3D Christmas will find a longterm spot in the holiday classic echelon.
The Harold and Kumar stories aren't as serialized as similar raunchy comedy offerings, such as The Hangover or American Pie series. At its core, 3D Christmas is mostly a holiday film parody that happens to star Harold (John Cho) and Kumar (Kal Penn) and, as a result, filmgoers won't need prior backstory to enjoy the proceedings. That said, there are plenty of call backs for dedicated fans of the franchise.
---