'Breaking Dawn' director Bill Condon says he's looking forward to fan reaction
(Read article summary)
'Breaking Dawn' grows up with fans as it addresses topics like marriage, Condon says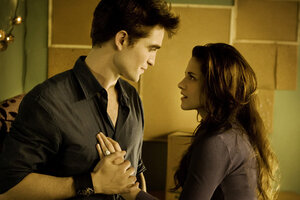 Andrew Cooper/Summit Entertainment/AP
Two films.
Seven hundred and fifty-four pages.
Bill Condon had a tall order and a lot of content to cover when he signed on to direct The Twilight Saga: Breaking Dawn Part 1 and 2, the fourth and fifth films based on Stephenie Meyer's novels. But he was up for the challenge.
"Well, I think the biggest challenge is that these books are so beloved by so many people that you want to make sure that obviously it's your take on the material but that it doesn't betray people's expectations and yet still becomes a full cinematic experience," Condon said.
The cast was a big help to Condon. Robert Pattinson, who plays Edward Cullen; Kristen Stewart, who plays Bella Swan; and Taylor Lautner, who plays Jacob Black; have been in these roles for several years and helped Condon get a better understanding of these characters. In fact, the four of them spent two weeks before filming began talking through what had happened in the previous films and what was coming for their characters.
"At a certain point, when an actor starts to embody a role, they know it better than you ever will. And certainly that was true here," Condon said.
After working together for so long, the cast has become close – particularly Pattinson and Stewart – and Condon was happy to work with their chemistry.
"It's crazy, you know, just how close they are. It's wonderful. I feel as though, because they're more relaxed with that, it added something to the movie because obviously this is the part where they are together, and that's something they didn't have to act," he said.
---