'Breaking Dawn' soundtrack is fun and sappy -- in a good way
(Read article summary)
'Breaking Dawn' has music that's a little edgier than the previous films as Edward and Bella move into a new chapter of their lives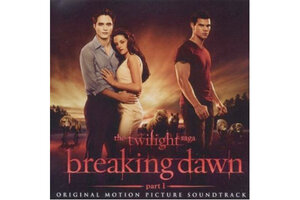 Music has been a vital part of The Twilight Saga from the very beginning. Author Stephenie Meyer acknowledges the musicians who influenced her at the end of each book in the series, and the soundtracks of each of the first three films have gone on to sell numerous copies. Even the cast has gotten involved in the soundtracks – Robert Pattinson, who plays Edward Cullen, recorded two songs for the Twilight soundtrack; new cast member Mia Maestro has a song on this one; and Kristen Stewart, who plays Bella Swan, suggested what has (arguably) become "the" song of the series.
It is that song – and the return of Carter Burwell – that make The Twilight Saga: Breaking Dawn Part 1 soundtrack feel like a bookend to the first Twilight movie. Pattinson and Stewart dance to Iron & Wine's Flightless Bird, American Mouth at their characters' prom in Twilight; it seems fitting to have this song play over another pivotal moment in their lives. And I loved Carter Burwell's score of the first film and was thrilled when I read that he'd be scoring the last two. Just like the characters, this score is more mature but still influenced by its past. I love that you can still hear recognizable pieces of the first score – including bits of Bella's Lullaby – in a reimagined form. (And I, for one, am really looking forward to seeing Pattinson play Burwell's lullaby for Edward and Bella's daughter in Part 2.)
---
Follow Stories Like This
Get the Monitor stories you care about delivered to your inbox.