'Breaking Dawn' screenwriter addresses controversy over the film's story
(Read article summary)
'Breaking Dawn' screenwriter Melissa Rosenberg counters charges that heroine Bella is anti-feminist and that the movie is pro-life.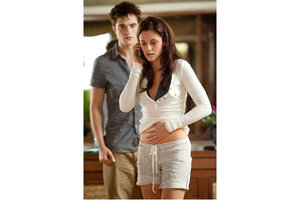 Andrew Cooper/HONS/Summit Entertainment
The penultimate installation in the Twilight franchise, Breaking Dawn — Part 1 was released in theaters today and is predicted to make upwards of $140 million dollars its first weekend. (The film made $30 million in 3,521 theaters at last night's midnight opening). Melissa Rosenberg, who has had the unique opportunity to stay on as the screenwriter throughout the duration of the series, has been in a key position in one of the most successful franchises of our time.
We recently spoke with the scribe who described herself as, "the luckiest screenwriter in Hollywood." Though she does concede that there is a double-edge to the sword of success. "It does raise the expectation level because the next project you do, if you fail, you fail in an internationally public way," she said.
"That's the risk you take by putting yourself in front of a movie. I probably could have been a part of this movie and hidden out in a corner so no one would notice. But I chose to embrace it and publicize it, and publicize my part in it, because I'm very proud of it. But the other side of it is that whatever the next project is there are a lot of eyes on that."
What (Some) Women Want:
---