'Sherlock Holmes 2' looks to be as big and loud as its predecessor
(Read article summary)
'Sherlock Holmes: A Game of Shadows' has a trailer with even more explosions and one-liners than the first Robert Downey Jr. movie.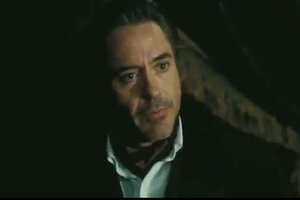 YouTube trailer screen shot
While artsier or "Oscar bait" flicks tend to flood theaters near the end of any year, there's always room for some good cinematic roller coaster rides. December 2011 will be no different, seeing how we have two high-octane sequels due to hit the scene: Mission: Impossible – Ghost Protocol and Guy Ritchie's Sherlock Holmes: A Game of Shadows.
The previously-released Game of Shadows teaser trailer went the customary route of selling the sequel as being bigger, badder, and featuring even more risque humor or quips than its popular predecessor. Now we have a full-blown preview for the Sherlock Holmes followup… and it basically takes the same approach.
Sir Arthur Conan Doyle literary purists may have blanched in horror at Ritchie's first "updated" take on Holmes, but the majority of moviegoers seem to agree: it's an energetically-paced Victorian-era period mystery/adventure that mixed in set pieces on a par with the first Pirates of the Caribbean movie. However, just like the Pirates sequels arguably crossed over from being good hammy fun to becoming a bit too bombastic in style and scope, there's reason to be concerned that A Game of Shadows might follow a similar path.
This second trailer for Sherlock Holmes 2 is pretty rapid-fire and overblown in style (ie. lots of slow-mo action, explosions, and sly one-liners) – and that's (naturally) also part of its appeal. It's hard to say for certain whether or not the final product looks to go overboard, but honestly? A Game of Shadows should (hopefully) still make for enjoyably ridiculous entertainment, even if it does.
With all that said – here is an official synopsis for Sherlock Holmes: A Game of Shadows:
---