'Men in Black III' gets a teaser trailer (VIDEO)
(Read article summary)
'Men in Black III' has had production troubles, but the new trailer gives viewers a look at new cast members Emma Thompson and Josh Brolin.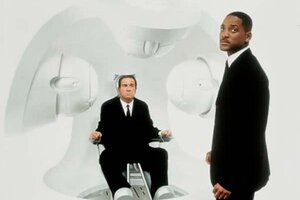 Sue Gordon/Columbia Pictures
Columbia Pictures officially kicked off the marketing blitz for its Summer 2012 3D sequel, Men in Black III, with a pair of letter-based posters that featured the familiar silhouettes of Agent J (Will Smith) and K (Tommy Lee Jones). The studio continues its efforts today, with the release of an official teaser trailer for the sci-fi action/comedy threequel.
If you've been following the third MIB movie's progress, then you know the film has encountered its fair share of production woes, including a drawn-out filming delay due to substantial script reworking, which eventually required an intervention by blockbuster writer David Koepp. Will the final product prove to be worth all that trouble?
Men in Black III sees J forced to time-travel (or, rather, time-jump… literally) back to the 1960s, when a trouble-making alien disrupts the timeline and kills the younger version of K (Josh Brolin) – an act that not only affects the future of the MIB organization, but the very existence of humankind. Beyond that, it's difficult to say what other major plot points present in Etan Cohen's original screenplay draft (see: our Men in Black III script review) remain in tact, given the numerous rewrites it has undergone, by this point.
That in mind, check out the official Men in Black III teaser trailer:
---