'Amazing Spider-Man' star Andrew Garfield, producer give new details on the film
(Read article summary)
'Amazing Spider-Man' star Andrew Garfield says that he 'get into near-death experiences every hour on the hour' during filming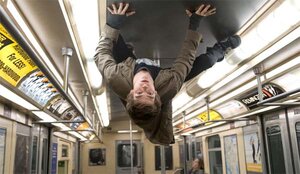 Jaimie Trueblood/HONS/Columbia Sony Pictures/AP
A big question mark lingers above the head of Sony's upcoming comic book franchise revamping, The Amazing Spider-Man. Fans seem to either love or be very wary of the idea of a fresh start to the Peter Parker story; unlike many of the other reboots/remakes on the horizon, the Webslinger's tale is especially familiar to moviegoers, seeing how it only unfolded onscreen (in live-action form) for the first time back in 2002.
While the basic crux of Spidey's origin remains intact in Amazing Spider-Man, there are numerous new plot and character elements being incorporated, which were absent from director Sam Raimi's original Spider-Man movie. But will those new ingredients help to produce a tasty, yet somewhat unfamiliar dish – or are they just window dressings being added on to create the illusion that this flick is more than just an unimaginative rehash?
The cast and crew of Amazing Spider-Man have (naturally) been keen to emphasize that the film will bring something genuinely new to the table, be it in the form of vastly different takes on certain characters – or just a tone that's more "realistic" and less reminiscent of a live-action Saturday morning cartoon, a la Raimi's Spider-Man trilogy.
---