'Game of Thrones' season 2 trailer debuts online
(Read article summary)
'Game of Thrones' new trailer for its second season shows more feuding, battles.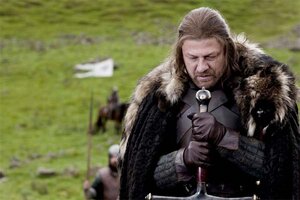 Nick Briggs/HONS/HBO/AP
Game of Thrones was arguably the most well-received and critically-acclaimed new genre show of the last year – and now that the 2011 Emmys and the Golden Globes have come and gone, you can add award-winning to that list, as well.
Since closing out its first season way back in June, fans of the HBO fantasy series – based on the popular A Song of Ice and Fire series of novels by George R. R. Martin – have been waiting impatiently for their first glimpse of Season 2.
And while we've previously seen teasers (and a featurette) for the forthcoming season, today's the first time we're seeing an official trailer with undeniably significant footage all throughout.
Check it out below:
The trailer does a perfect job of giving fans of the series just enough information and imagery to temporarily satisfy our nigh-on insatiable Game of Thrones cravings while still remaining mostly vague.
---