'Safe House' has solid performances with Denzel Washington, Ryan Reynolds
(Read article summary)
'Safe House' has realistic action sequences and delivers an old premise in a fresh way.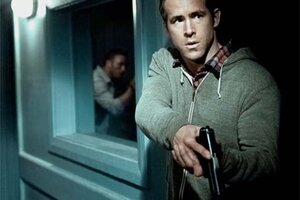 Jasin Boland/HONS/Universal Pictures/AP
As soon as the credits started to roll, I thought to myself 'That was a surprisingly good film', going into Safe House I didn't expect it to be good. I expected it would be a decent and fun affair; a good way to pass the afternoon, as it turned out it was a lot more than that.
The film is about one of the CIA's most wanted men, Tobin Frost (Denzel Washington), he seems to have acquired something that some very bad men want. Being on the run and seeing he has no other choice, he walks into the South African US embassy. The CIA aren't taking this lightly, and send him off for interrogation at a 'safe house', one looked after by Matt Weston (Ryan Reynolds). Before long, the place gets raided and Weston steps up to the plate in order to do the right thing and get Frost out of there. The pair are on the run, there is no trust between the men and what Frost is holding is of high value. A cat and mouse game follows …
Safe House is an action/thriller, it is fast paced for the most part and it certainly contains a level of seriousness that I didn't expect. It has some crazy action but they definitely tried something different with it, and instead of having people be invincible to bullets and punches, people got hurt and the action was delivered in a little more of a realistic way than we're used to. While some of the twists you might see coming, the action aspect isn't at all predictable and some of it is a little shocking. Some if the set pieces are really well handled, and the chase scenes are nicely done.
---