'The Bourne Legacy' trailer shows star Jeremy Renner's action experience
(Read article summary)
'The Bourne Legacy' adds actors Edward Norton and Rachel Weisz to its franchise cast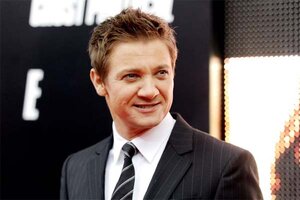 Evan Agostini/FRE/AP
There's been some confusion surrounding The Bourne Legacy, which is neither a direct continuation of the storyline from previous Bourne movies, nor a reboot of the franchise. Instead, it's a semi-spinoff that revolves around a different "programmed" Treadstone assassin – as played by Hawkeye from The Avengers (a.k.a. Oscar-nominee Jeremy Renner).
Bourne film series screenwriter Tony Gilroy is juggling both writing and directing duties on Bourne Legacy. His involvement with the new chapter in this popular action-thriller franchise – combined with the film's respectable cast (more on that in a moment) – was enough to land this not-a-reboot installment a spot on our Most Anticipated Movies of 2012 list.
Renner stars in Bourne Legacy as "Aaron Cross," a new highly-lethal government spook "whose life-or-death stakes have been triggered by the events of the first three films." In other words, history ends up repeating itself in the aftermath of The Bourne Ultimatum, once Cross goes rogue – forcing government agents like Pam Landy (Joan Allen) and Noah Vosen (David Strathairn) to track him down, by whatever means necessary.
---