'Hunger Games' author offers her take on the finished film
(Read article summary)
'Hunger Games' author Suzanne Collins has seen the finished movie and told fans what she thinks.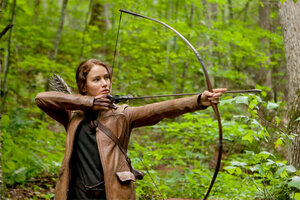 Murray Close/HONS/Lionsgate/AP
Hunger Games author Suzanne Collins is following in the foot$teps of fellow Young Adult authors J.K. Rowling (Harry Potter) and Stephenie Meyer (Twilight) by turning her series of novels into a blockbuster movie franchise – one that is already setting records for advanced ticket sales. However, the eager early ticket buyers were most likely those who were already fans of The Hunger Games novels; the movie's appeal to the general public will rest entirely on the quality of the film that director Gary Ross (Seabiscuit) has put together.
Of all the many opinions on The Hunger Games movie that will be forthcoming in the next few weeks, there is almost certainly one opinion that matters more than the rest: that of Suzanne Collins herself. Well, the author has now seen the finished version of her story onscreen; read on to hear her thoughts.
This is what Collins posted on her Facebook Page regarding The Hunger Games movie:
---