Elizabeth Olsen in 'Silent House' elevates the film above scary movie cliches
(Read article summary)
Elizabeth Olsen delivers an engrossing performance as a young adult in a mysterious house.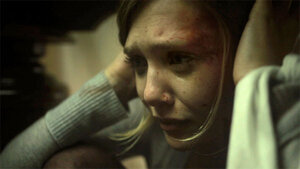 Open Road Films/AP
After a breakout performance in Sean Durkin's 2011 drama film, Martha Marcy May Marlene, Elizabeth Olsen (younger sister to the infamous Olsen twins) is set to try her hand at the horror genre in Silent House. Olsen's performance in Martha Marcy May Marlene earned her several "Best Actress" nominations – leading many film fans to question whether Silent House would impede Olsen's rising star, or prove that even in a horror-thriller project the young actress can deliver a compelling performance.
Of course, Silent House isn't just a basic slasher-horror film where brainless co-eds run up a flight of stars instead of out the front door. Directed by cinematography team Chris Kentis and Laura Lau, who cut their teeth on the 2003 survival-horror film, Open Water (about a pair of scuba divers who are inadvertently left alone miles from shore in shark-infested waters), Silent House offers 88 minutes of "based on true events" story presented as a single, uninterrupted take.
Does the pairing of Olsen with the "high-concept" premise make for a gripping and unique theater experience?
Ultimately, the performances in Silent House - as well as the unique filmmaking presentation – elevate the movie above normal horror-thriller cliches; however, the film definitely has a few shortcomings that, despite the larger successes, undermine the overall effectiveness of the experience.
---