'Hunger Games' star Jennifer Lawrence talks filming and mall tours
(Read article summary)
'Hunger Games' star Jennifer Lawrence discusses the pressure of playing a well-known character and working with director Gary Ross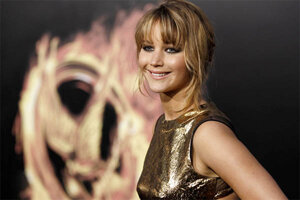 Matt Sayles/STF/AP
Jennifer Lawrence has already enjoyed a remarkably unique career path. Born in Louisville, Kentucky, Lawrence had the nearly unheard of good fortune to be discovered on a visit to New York City when she was just fourteen years old. After a good deal of goading on the part of agents (who saw a rare talent in Lawrence), her parents agreed to allow her to stay in NYC and begin auditioning.
After a few commercial and guest star roles, she was cast in the TBS television series The Bill Engvall Show. Lawrence went directly from the short-lived sitcom to the role that would secure her a Best Actress Oscar nomination at the tender age of twenty: playing Ree Dolly in Debra Granik's Winter's Bone. Shortly thereafter, Lawrence humanized Mystique, one of Marvel's most beloved villainess', in X-Men: First Class.
Lawrence is now taking on her biggest challenge: the lead role in a film that is poised to (potentially) be a worldwide phenomenon, The Hunger Games. In the film, Lawrence plays Katniss Everdeen, a teenage girl from a dystopic future in which a fascistic Capital selects one boy and one girl from each of the twelve districts of the nation of Panem to fight to the death in an annual tournament called The Hunger Games. Katniss is forced to volunteer to fight when her much younger, much smaller sister is selected in that year's lottery.
---