'Walking Dead' season finale shows a return to form
(Read article summary)
'Walking Dead' ended its second season with a tease of what's to come next fall.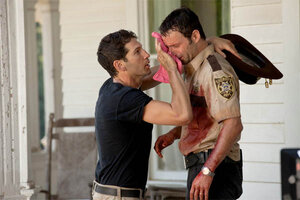 Gene Page/HONS/AMC/AP
(This review contains MAJOR SPOILERS for the episode 'Beside the Dying Fire' and season 2 as a whole. Stop reading now if you haven't seen the entire season.)
-
What a difference a death makes. As occasionally entertaining as it was to have Shane (Jon Bernthal) around, watching him devolve into an ever-bigger threat toward Rick (Andrew Lincoln), his character was a lot like the walker Carl (Chandler Riggs) found at the edge of a creek: stuck. That metaphor of being stuck in the mud, and desperately trying to move on, pretty much sums up a great deal of The Walking Dead season 2.
Arguably, season 2 will be looked at as the swan song for Shane, whose downward spiral began with the killing of Otis, and perpetuated throughout the season with increasingly obsessive feelings toward Lori (Sarah Wayne Callies) and Carl, as well as a need to best Rick at every turn.
But at a certain point the season will be scrutinized for how well it lived up to the expectations set forth by the first season, the continued success of creator Robert Kirkman's comic book series, and the knowledge that Frank Darabont, the primary creative force behind the series, would be gone half-way through. More than the issue of expectation and Darabont's shocking dismissal, however, The Walking Dead has it's own internal concerns wherein the writers seemed to be struggling to find the essence and personalities of the characters experiencing the ongoing zombie apocalypse.
---