'The Hunger Games': Decide whether you want to see it
(Read article summary)
If you haven't read the books, will you like 'The Hunger Games'? Here are five ways to find out.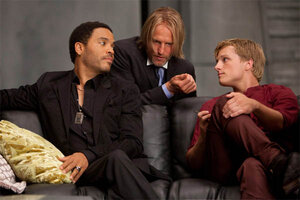 Murray Close/HONS/Lionsgate/AP
The Hunger Games is the hot-ticket item at the movies right now; It's already sold-out record numbers of advanced showings, and earned strong reviews from critics (click here for our official review). The film is looking like a big success for Lionsgate (a sequel, Catching Fire, is already on the way) - but that doesn't mean that everyone is sold on seeing it.
In fact, there is a considerable portion of the larger moviegoing public that hasn't read any of Suzanne Collins' novels and is wondering what all the hubbub is about this film and if it's worth a trip to the theater.
So, for those who have not yet been bitten by Hunger Gamesfever, we've compiled 5 things you should know to help you better make your decision about whether or not to see the film.
5. There is Action and Violence
Contrary to what The Hunger Games trailers would have you believe, this film is about more than just the drama surrounding protagonist Katniss Everdeen (Jennifer Lawrence) trying to save her sister, Prim. There is actually, you know, a brutal tournament that takes place.
---