'Hunger Games': Will director Gary Ross return for the sequel?
(Read article summary)
So far, there are conflicting rumors on whether 'Hunger Games' director Gary Ross will return for the adaptation of the sequel 'Catching Fire.'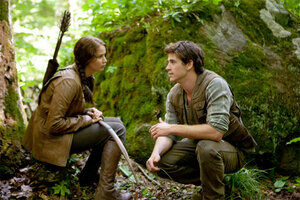 Murray Close/Lionsgate/AP
It came as somewhat of a surprise when, earlier this week, word leaked out that Hunger Games co-writer/director Gary Ross had not yet been locked down for the sequel, Catching Fire – not only because of the widespread positive response to (and massive box office returns for) the first HG movie adaptation, but also because Ross had already begun to discuss his tentative plans for shooting the followup.
Reports are now in that Ross has selected to not be involved with Catching Fire after all. That puts Lionsgate in somewhat of a precarious position, as the studio wants production on the sequel to get underway by this upcoming September – meaning that the search for a replacement helmer will have to be a relatively quick one.
The Playlist says that Ross' decision to pass on Catching Fire stems from a desire to press ahead with a different, original project that he's more passionate about – one which, ironically, is expected to snag him a bigger payday than what Ross might've fetched for directing the second Hunger Games flick. Still, by all accounts, money was not the primary motivating factor for Ross' departure.
---