'Die Hard 5' gets two new villains
(Read article summary)
'Die Hard 5' will feature German actor Sebastian Koch and Russian actress Yulia Snigir as two sinister Russians.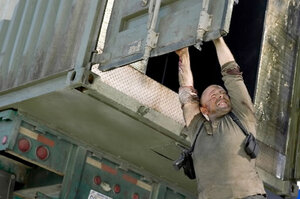 Frank Masi/20th Century Fox
Production is about to begin on the fifth installment in the Die Hard franchise, bearing the punny title A Good Day to Die Hard. Bruce Willis will reprise his career-defining role as loose cannon, Irish-American cop John McClane – who's really a fish out of water this time around, as he ends up battling baddies overseas in Russia while also reuniting with his son Jack (Spartacus' Jai Courtney).
While there were rumors circulating a year ago that a member of the Gruber clan could be featured as the antagonist in Die Hard 5, that was long before any official plot details had been announced. Judging by today's casting update – which concerns what are believed to be the two primary villain roles in the movie – McClane and Son will be facing much more generic foes on their crazy trip overseas.
The most recent Good Day to Die Hard script draft penned by Skip Woods (Swordfish, Hitman) reportedly sees McClane travel to Moscow in order to get his trouble-making son out of prison. However, it turns out John and Jack are both being used as pawns in a global terrorist scheme – thus, forcing the estranged duo to (as Variety puts it) "team up to keep each other alive and protect the world from imminent disaster."
---