'The Cabin in the Woods' is over-the-top, but has an intriguing twist
(Read article summary)
'The Cabin in the Woods' has twists that moviegoers should avoid knowing beforehand in order to get the best experience possible.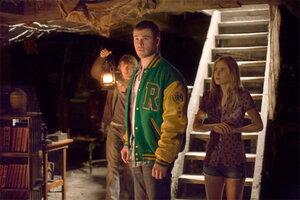 Diyah Pera/Lionsgate/AP
The ups and downs of The Cabin in the Woods release delay had little to do with co-writer and producer Joss Whedon, or writer-turned-director Drew Goddard's movie; rather, the horror genre hybrid was simply caught in the middle of the MGM Studios collapse. Despite a few big names being attached to the long-withheld project – Avengers star Chris Hemsworth and director Joss Whedon - does The Cabin in the Woods actually offer a fresh and enjoyable horror experience? Or is the film little more than a middle-of-the-road effort that could have easily been left on the shelf?
Much like Eli Craig's tongue-in-cheek effort, Tucker & Dale vs. Evil, The Cabin in the Woods is far-from a typical horror film. The trailers for the movie spoil one of the most intriguing elements – which not only differentiates the project from regular slasher films, but also gives the writers and cast an opportunity to poke fun at the cliches of the genre without entirely undermining the scares.
In an effort to prevent spoiling the film for others, I'm not going to directly discuss the "twist" or where the filmmakers take the especially ambitious premise; however, I will say that, for readers who are already interested in checking out the film, it's unlikely that the experience is going to disappoint. The Cabin in the Woods is hardly the most serious, or smartest, horror film audiences will have seen in a while – there are plenty of eye-roll-inducing dialogue moments and the over-arching setup might be hard for some moviegoers to accept – but, for anyone that's ready for an entertaining (albeit over-the-top) horror movie, avoid the film's spoiler-filled trailer and head to your favorite cineplex knowing as little as possible.
---