'30 Rock' star Alec Baldwin says the show will end next season
(Read article summary)
'30 Rock' star Alec Baldwin said the comedy will end next season after he stated in a tweet that he was leaving NBC.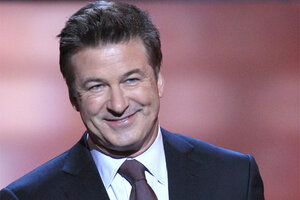 Marcio Sanchez/AP
Alec Baldwin, rarely one to watch his words, may have let slip that the end of 30 Rock is not too far away.
According to Baldwin, he will continue on the NBC series, which is currently in the middle of its sixth season, until next year's seventh but also states that 2013 will be the final season for the hit show. The news follows a less than friendly series of tweets from the award-winner last week.
What started the ball of melodrama rolling was the alleged stalking of Baldwin by a struggling Canadian actress named Genevieve Sabourin. Apparently the 30 Rock star may have gone out on a few dates with Sabourin, but claims she turned Fatal Attraction after news broke of Baldwin's engagement to a 29-year-old yoga instructor. The juicy stalking story has caused a lot of unwanted attention for Baldwin, even from his employer network NBC, which provoked Baldwin to angrily tweet:
@alecbaldwin: "The television crew camped outside my apt said they were with the Today Show. #howthemightyhavefallen"
@alecbaldwin:" I haven't appeared on the Today Show in many years. But did they have to camp outside my apt?"
@alecbaldwin: "A story about stalking sure brings out the stalkers in the media. But, the Today Show?"
---