'Arrested Development' creator Mitchell Hurwitz discusses season 4
(Read article summary)
The 10 new episodes being released at the same time will allow for more clues and connections in the plots, says Hurwitz.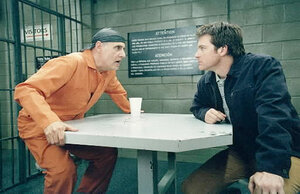 Fox
When it was announced that Arrested Development was coming back for season 4, fans of Mitch Hurwitz' comedy series (which has continued to amass a strong cult-following in the years since it was canceled), went bananas with excitement. Not only would they be getting the Arrested Development movie they've been clamoring for – Netflix will air an entire fourth season of the show as well!
Today we have some updates about Arrested Development season 4 from Hurwitz himself: the show will resume production this summer, and it seems that the deal with Netflix has steered season 4 in a different direction than originally intended. Read on for details.
At first it was proposed that Arrested Development's fourth season would be a 10-episode arc, which served as a lead-in to the movie. Each episode of the season would focus on a different member of the Bluth family – what they've been up to in the time since we last saw them – and the circumstances that steer them all toward the events of the movie (click the following link to see what the movie's plot might be about). This format would allow established fans to get re-acquainted with the characters; would allow new viewers to get to know each character; and would allow for the cast members – many of whom are bigger celebrities now than when the show originally aired – to each be spotlighted. Not a bad approach.
---