'Star Trek' to return as a TV series?
(Read article summary)
TV producer and writer Bryan Fuller says he and filmmaker Bryan Singer would 'love to do it'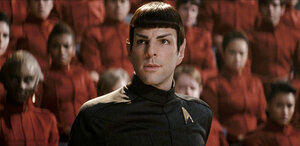 Paramount/AP
Even though his hands are plenty busy working on the Munsters reboot titled Mockingbird Lane, and now that his plans for the Hannibal television series have revealed an ambitious seven-year storyline, one would think Bryan Fuller would have little time to ponder a new Star Trek television series.
Apparently, that's not the case.
While speaking with Entertainment Weekly regarding the upcoming NBC series Hannibal, Fuller was asked about his thoughts on a new Star Trek television series and what he had discussed with filmmaker Bryan Singer prior to J.J. Abrams rebooting the franchise with his successful 2009 feature film release.
It seems that since Abrams and Paramount are the current gatekeepers to the Star Trek franchise, any such television series would likely have to be met with their approval, and coincide with the release schedule of any further installments beyond next year's tentatively titled Star Trek 2.
In his statement, Fuller said:
"Bryan and I are big fans of Trek and have discussed a take on what we would do, and we would love to do it. I don't think anything is going to happen in any official capacity until after the next movie comes out. And I'm sure it would be wisely under J.J. Abrams' purview of what happens. He's the guardian of Trek right now."
---