'The Raven' is a strange mishmash of history and action
(Read article summary)
'The Raven' star John Cusack delivers a serviceable performance as famous writer Edgar Allan Poe.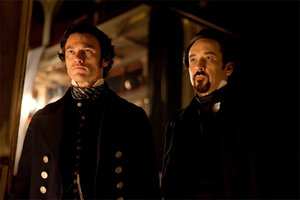 Larry Horricks/Relativity Media/AP
The titling of director James McTeigue's Edgar Allan Poe thriller, The Raven, has no doubt confused plenty of would-be moviegoers ever since the film was first announced back in 2009. Instead of a retelling of Poe's most famous poem, The Raven is actually a fictionalized narrative centered around the final days of the writer's life – recasting Poe as a reluctant but brave hero that, along with a determined Baltimore detective, attempts to solve a string of grisly murders.
The re-imagined historical figures genre has become a new testing ground for Hollywood, most notably with Abraham Lincoln: Vampire Hunter on the horizon (FYI: Edgar Allan Poe makes a guest appearance in the novel), where writers can take household names – and put a new, and in theory more exciting, twist on what would otherwise result in stuffier true-life drama (i.e. Steven Spielberg's Lincoln biopic). As a result, does McTeigue's The Raven offer both a fun spin on the last days of Edgar Allan Poe – while also delivering an exciting mystery story?
---