Scott Bakula discusses arriving for end of 'Desperate Housewives'
(Read article summary)
Scott Bakula talks about working with Marcia Cross and joining an ensemble cast in its last days.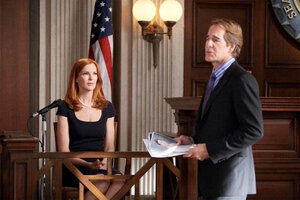 ABC
One of the few positives to knowing well in advance that a show such as DESPERATE HOUSEWIVES is coming to a close is that it affords a creator like Marc Cherry ample time to check off his bucket list. Case in point, the recent addition of Scott Bakula to Wisteria Lane as Bree's defence attorney Trip Weston is a guest spot eight seasons in the making. At least according to Bakula, the affable actor who was only too happy to take some time during the show's final week of shooting to tease what's in store for his character's relationship with Bree both in and outside the courtroom, what it's like to be a part of such an iconic show's closing chapter and what fans can expect from the upcoming series finale. See for yourself, after the jump.
Is an offer to guest star on the final five episodes of DESPERATE HOUSEWIVES an automatic yes for an actor, or is it something you had to think about?
Scott Bakula: In this case it was easy because I'm a fan of the show. My wife and I got hooked from the beginning and have pretty much watched for eight years. I've bumped into Marc Cherry periodically over the years and he would say, "We gotta get you on the show," and I would say, "You're right!" yet it just never happened. And basically I had written off that it would ever happen so when they called and asked if I wanted to do the last five, it just sounded perfect. Plus, it was working with Marcia, who I had worked with when she was a baby, twenty years ago on QUANTUM LEAP, so it all seemed like it was meant to be.
---