'Walking Dead' executive producer Robert Kirkman talks season 3
(Read article summary)
On 'Walking Dead,' the show hasn't 'even gotten to the good stuff yet,' according to the executive producer.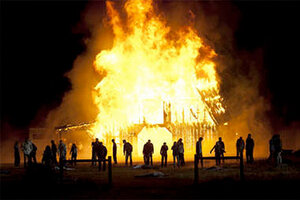 Gene Page/AMC/AP
It's safe to say that the expectations for the upcoming third season of AMC's The Walking Dead are fairly high, given the tease at the end of season 2 featuring not only the debut of fan-favorite Michonne (Danai Gurira), but the new season will also take the survivors off Hershel's farm and have them set up camp in a rather ominous-looking prison.
In an an on-set interview with AMC, Kirkman offered a description of the prison set and spoke briefly on the subject of Michonne's sword-handling skills. He also spoke about fan expectations with the inclusion of the villainous Governor (David Morrissey) and how he will play into the larger, more dangerous world that is expected to be unveiled during season 3.
According to Kirkman, the prison set is one of the most remarkable pieces of construction for a television series, and it largely works because of its faithfulness to the source material.
Kirkman said:
"The big change this season is we've got this amazing prison that we're filming in. It's absolutely stunning, and I never get used to being on set. They've taken a lot of what you see in the comic book series and brought it to life in ways that I didn't think possible. This is going to be one of the most impressive looking things that's ever been put together for a show."
---