Hugh Laurie may appear in the remake of 'RoboCop'
(Read article summary)
Laurie is currently in negotiations to appear in the film.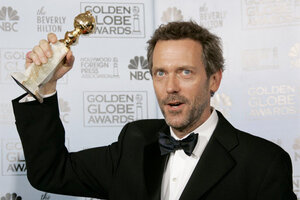 Kevork Djansezian/AP
Now that House, M.D. has concluded an eight-season run, star Hugh Laurie is once again available for more than the occasional onscreen appearance (Street Kings) or voiceover job (Arthur Christmas). Besides a leading role in the upcoming Mister Pip adaptation, it looks like Laurie's next significant live-action role will be a part in the RoboCop remake/reboot.
Laurie is currently in negotiations for the new RoboCop; assuming a deal is struck, he'll portray the villainous CEO of Omnicorp (known as Omni Consumer Products, in the original film), the organization responsible for resurrecting near-dead Detroit cop Alex Murphy (Joel Kinnaman) as the titular super-human cyborg.
Credit for the scoop on Laurie circling RoboCop goes to Heat Vision; as is also mentioned in their report, the actor could join a cast that already includes such noteworthy people as Abbie Cornish (Bright Star), Gary Oldman, and Samuel L. Jackson in supporting roles. That's a different collection of talent than the buzz-worthy acting crew MGM/Sony was supposedly eying originally (including, Edward Norton and Rebecca Hall), but it's equally impressive. Certainly, part of the appeal of the RoboCop do-over (for the actors) is the opportunity to appear in the first Hollywood vehicle helmed by acclaimed Brazilian filmmaker, José Padilha (Elite Squad).
---