'Falling Skies': Executive producers preview the second season
(Read article summary)
'Falling Skies' executive producers talk about that first season cliffhanger and where the new season will be going.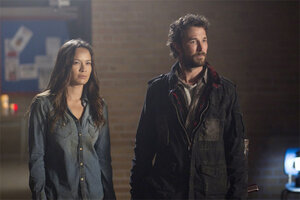 Ken Woroner/TNT/AP
FALLING SKIES debuted last summer to record breaking numbers as fans across the globe avidly tuned into see the mesmerizing aliens and to figure out how humans were going to reclaim their planet. During a recent press conference at Zoic Studios, executive producers Remi Aubuchon, Justin Falvey and Darryl Frank provided some insight on how they approached the second season of the alien occupation series that has the whole world buzzing.
The first season finale was clearly a game-changer? What were you thinking ending it with Tom Mason walking onto the alien ship?
REMI: Well, I wasn't involved then.
DARRYL: When we hired him, he was like, "Thanks a lot guys. Now I've got to write my way out this one!" 'Cause he wasn't involved in the first season. He was only involved in the 2nd season.
REMI: I only got involved when we started talking about possibly me coming and running the 2nd season. I was literally thrown in a room on a Saturday and I watched all of the episodes, and as I was watching I was going, "This is cool. This is cool." Then it got to the end and I went, "Oh my god, what am I going to do?!" So someone else painted me into that corner. But the truth is that I love a challenge. It was really fun to figure out: why did he go there? I called up the writers of the first season and they all said, "I don't know." But the truth is we came up with an awesome way to move forward from that; and actually in many ways, that final sequence ended up informing much of the energy, thrust and engine of the second season.
DARRYL: We had ideas. I mean, we had ideas of where we would go — possible different directions — but we sort of left it up to Remi and the writers. We have some writers from the first season that stayed on and some new writers who sort of come up with what they wanted, and we're really happy with where it ended up.
---