Social media keeps Duran Duran fans hooked
(Read article summary)
The '80s band still attracts thousands of online fans with their robust online presence.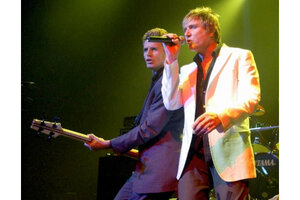 Andy Butterton/AP
Duran Duran is still keeping fans enthralled.
After more than 30 years in the music business, the 1980s pin-up boys have long graduated from the covers of Tiger Beat and Bop. But the British band still has the golden touch in connecting with their millions of fans through vast channels of social media, contests, and the much desired meet-and-greet.
Take today, for example. It's bassist John Taylor's birthday, and he posted a handwritten birthday message for one lucky Duranie to win. Earlier this month, keyboardist Nick Rhodes sent a video birthday message along with a playlist of some of his favorite songs.
Tonight, Duran Duran makes a special appearance in New York City at a private show with DJ Steve Aoki. The band gave away tickets to the event, billed as a mystery gig, to fan community members. (Yes, Duran Duran still has a rabid fan club.)
Maya Garcia, a Duranie since 1982, received two tickets to the show. She paid for airfare from Chicago to the Big Apple on short notice in order to attend. It's super special for her because it's John's birthday - although Nick is her favorite.
"I am expecting a bit more interaction with the band than during a normal show, since the crowd will be comprised of mostly Duran Duran fans, most of whom are fan club members, the 'hardcore' contingent," she says. "I expect to hear rarities or tracks never performed live before. And I also hope to see the band members sing 'Happy Birthday' to John Taylor. That should be both entertaining and amusing to watch."
It's no surprise that Duran Duran has intensely engaged 21st century technology. The band was one of the first to shoot glossy music videos in the 1980s. Lead singer Simon Le Bon running through the jungle in "Hungry Like The Wolf" has become an iconic image of the decade. In 1997, Duran Duran touted that it was the first band to sell a single on the Internet.
---