'Firefly' creator Joss Whedon and the cast come to Comic-Con
(Read article summary)
Whedon and several stars from the show will appear for a panel at Comic-Con.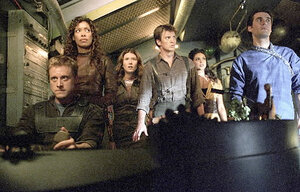 Universal Pictures
If you were ever a fan of the short-lived FOX program Firefly and its subsequent feature film, Serenity, then chances are your ears perk up anytime whispers of a reunion or continuation of the series makes their way through the rumor-filled corridors of the Internet. Now, in an effort to celebrate the 10-year anniversary, and to likely put to rest any belief that it will ever be a full-fledged program again, the cast of Firefly will be reuniting for a panel at this year's Comic-Con.
The panel comes courtesy of Science Channel, which has been airing reruns of the sci-fi show since 2011. Creator Joss Whedon and writer Tim Minear along with Nathan Fillion, Adam Baldwin (Jayne Cobb), Alan Tudyk (Hoban Washburne), Sean Maher (Simon Tam) and Michael Fairman (Adelai Niska) are all scheduled to make an appearance at the hour-long panel that Science Channel says will also include "numerous buzz-worthy surprises" – so read into that whatever you will.
---