'Don't Stop Believin': A documentary follows Journey's new lead singer
(Read article summary)
'Don't Stop Believin': Arnel Pineda was homeless and sang rock covers until he became the new Journey front man.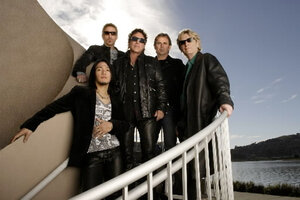 Courtesy of John Pop Plewell
Silverdocs kicked off its 10th annual film festival Monday night with a special screening of Ramona Diaz's "Don't Stop Believin': Everyman's Journey."
As festival director Skye Sitney said when introducing the film, it's one of those stories that "if it were a fictional film, you'd throw up your hands halfway through at how improbable the whole thing is."
And she's right. Aside from the fact that it's chock full of Journey's ridiculously addicting, rock anthem music, the beauty of the story is that Steven Spielberg couldn't have scripted the film better if he tried.
It goes something like this: poor kid from the Philippines loses his mom and ends up homeless on the streets of Manila. To support himself, he channels his amazing vocal talent into a gig in a local band. They survive playing covers of American bands like Bon Jovi and Journey. The kid grows up, keeps singing, battles drug and alcohol abuse and tries to launch a solo career that goes nowhere. By the time he turns 40, he's so despondent that he's ready to give up on music altogether. Just as he's deciding to pack it in, he gets an email from the states – it's Neal Schon from Journey. The band is desperately searching for the perfect new front man and they've stumbled across video of the kid on YouTube singing Journey covers. They're blown away. Can he come to the US to audition in person?
---