'True Blood' star Jacob Hopkins discusses playing the youngest vampire
(Read article summary)
'True Blood' star Jacob Hopkins plays the powerful but young vampire Alexander Drew on the hit HBO show.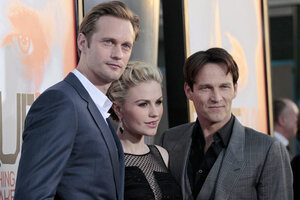 Mario Anzuoni/Reuters
In a good horror story, viewers are always surprised by who the real villain is. It is when monsters do not look like monsters that we are simultaneously horrified and curious. Preying our how our eyes fool us into believing that a young child is nothing to be afraid of, TRUE BLOOD has introduced the diabolical Alexander Drew, a vampire who only looks so innocent and sweet. In a recent exclusive interview, young star Jacob Hopkins shared what he enjoys about playing the monster behind the eyes of a child.
How exciting is it to work on TRUE BLOOD?
JACOB: You know, I've never seen the show because it's for an older audience. So I didn't know how it would go, but to tell you the truth, it is really fun. There's the fangs, and they are better than the plastic ones. They are way cool. They look so real and match my teeth color. There's also the wardrobe, I get to wear a suit. That's really cool 'cause I feel like an adult — and the set was so beautiful. It was like out of a movie. There were so many people on set, so many different cameras, and it was very busy but everyone knew exactly what to do. We would rehearse in the morning before we would shoot and there was a lot of joking and laughing. I had a lot of fun. So it is pretty cool.
So you had a great time portraying Alexander. What drew you to the character?
JACOB: The character is really creepy and stuff. So what drew me to him was he is an interesting monster. The show explores a lot of monsters and I like characters that are monster-like, like Dr. Jekyll and Mr. Hyde. That sort of personality is really fascinating and that's pretty much how Alexander is. He kind of has a really sly and sarcastic side to him, but then he's also got a tough side. Most monsters are kind of curious, and that's how Alexander is. He is pretty obnoxious and full of himself, but he's pretty serious too. Like he never jokes around with the other vampires. He is very feisty and strong-minded vampire, and he has a little dark side to him. I don't know, maybe there is some good in him, but he never shows it. He is a pretty mean vampire — let me just say that! [Laughs] I like that we really get to explore him this season.
---